Arkansas Traveler
Battle of New Orleans
Bugle Rag
Cindy
Dixie
Down Yonder
Dueling Banjos
Foggy Mountain Breakdown
K.C. Railroad Blues
Mountain Dew
New River Train
O' Joe Clark
Orange Blossom Special
Redwing
Wabash Cannon Ball
Wildwood Flower
Will the Circle be Unbroken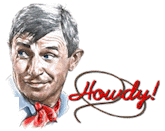 How about some Bluegrass Music!
I've recently discovered that I really enjoy bluegrass music - in small doses, and if good. Depending on your computer and it's sound card quality, the blue grass music to the left will be great, or not so great. Try it, and smile.

You are now listening to "New River Train".

"I'm leaving on that new river train..."